Welcome to the first review in the
PRUDENCE READ-ALONG
, hosted here on Skye's Scribblings and the
Goodreads Gail Carriger Fan Group
! (For information on the Read-Along, see the Introduction post
here
.) Below are my brief thoughts on the first four chapters, as well as the first Q&A with the author and
a special surprise giveaway
at the end for Carriger fans!!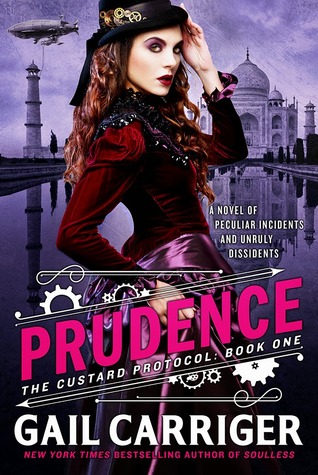 Release Date: March 17, 2015
Publisher: Orbit
Summary:
When Prudence Alessandra Maccon Akeldama (Rue to her friends) is given an unexpected dirigible, she does what any sensible female would under similar circumstances - names it the Spotted Custard and floats to India in pursuit of the perfect cup of tea. But India has more than just tea on offer. Rue stumbles upon a plot involving local dissidents, a kidnapped brigadier's wife, and some awfully familiar Scottish werewolves. Faced with a dire crisis and an embarrassing lack of bloomers, what else is a young lady of good breeding to do but turn metanatural and find out everyone's secrets, even thousand-year-old fuzzy ones?
This week we read Chapters 1-4.
WHAT HAPPENED:
After pilfering a mysterious snuffbox via slightly scandalous means at a private ball, Rue is given a delightful dirigible and a secret tea mission to India by her adopted father, Dama. Wrangling some old acquaintances into ship service, they set off by stealth with only a few hiccups (or, more accurately, moments of flatulence) for the Maltese Tower...
MY THOUGHTS ON...
Characters:
It's always exciting when minor characters (especially children) from an author's previous series grow up to become major characters in their own books! When Rue's special ability was revealed in the
Parasol Protectorate
I immediately knew she required her own series, and couldn't have been happier when
The Custard Protocol
was announced. The addition of the Tunstell twins and scamp Quesnel (who was always a favorite) were simply lemon curd on the crumpets.
Introductions & Floating:
I really enjoyed how playful the introductions were for the main cast: amused Rue with her shifting of both shapes and personalities, flirtatious Prim with her casual composure in the face of Rue's machinations, unmanageable Quesnel with his rakish mischief, and Professor Percy with his eccentric diversions.
The Spotted Custard
's introduction was a delight thanks to its initial quirky crew, and its preparation and maiden departure were an interesting look at just what such an undertaking involves. I really enjoyed learning the details and trials involved with floating - in previous parasolverse series (but especially
Finishing School
) we spent a great deal of time in the air, but here we finally got to see just how it works.
FAVORITE...
Character:
While it's impossible not to adore the entire cast, with his bookish proclivities, harried young valet, and cat named Footnote, how could Percy not be my boy?
Scene:
Definitely Percy's introduction, as it is filled with books and wit and a cat winds through it.
Quote:
"Good. That's him safely ensconced," said Rue.
"You're not worried he'll escape?" Prim watched her brother with affectionate exasperation.
"I've given instructions for the footmen and porters to wall him in with his own books. By the time he reads his way out, we should be ready for float off."
"You'll leave a feeding hole?"
"I'm not a monster."
So what were your thoughts on Chapters 1-4? Who was your favorite character? Favorite quote? Join the discussion on the Gail Carriger Fan Group HERE or Comment below!
NEXT (6/19 - 6/25) WE READ:
CHAPTERS 5-8
Q. With well over a dozen novels, novellas and short stories set in your parasolverse, what appeals to you so much about the world that you enjoy and are able to write in it for so long?

A. I am goddess of my universe and I get to control all the players! *Insert evil laugh here*

Seriously? I really just love the characters and I want to know more about them. As a writer, that translates to writing about them.
Author Links:
In honor of the Read-Along, Ms Gail has generously donated
two signed Prudence ARCs
!! As these would be a special addition to any Carriger fan collection, this giveaway will be open to
Gail Carriger Fan Group Members
only
. (US addresses only though, apologies International fans!) Want an ARC for your collection? Just be or become a
Fan Group member
and join the read-along discussion!
a Rafflecopter giveaway
And don't forget I'm also holding a giveaway here on Skye's Scribblings for a Carriger button set procured from
Gail Carriger's Zazzle merchandise account
! To enter, spread the word about the read-along and join the discussion either below or on the Gail Carriger Fan Group!
Important Giveaways Note
: If you post your discussion comments on the Goodreads Fan Group, your single post link can be entered into both giveaway forms - you don't have to post at both locations, or do more than one post. (Unless you want to, of course! ;)
a Rafflecopter giveaway