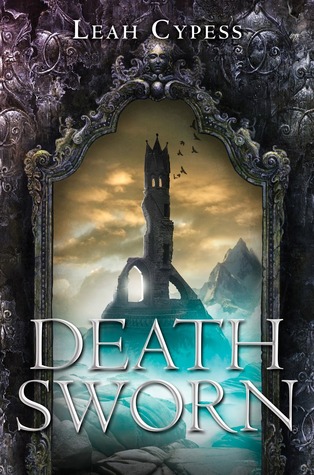 Title
: Death Sworn
Series
: Death Sworn, Book 1
Author
: Leah Cypess
Publisher
: Greenwillow
Release Date
: March 4, 2014
Genre
: Young Adult Fantasy
Content Rating
: Older Teen (violence, some minor gore, sensuality)
Format Read
: ARC (trade)
Find On
:
Goodreads
Purchase On
:
Amazon | B&N | Book Depository
Summary
:
When Ileni lost her magic, she lost everything: her place in society, her purpose in life, and the man she had expected to spend her life with. So when the Elders sent her to be magic tutor to a secret sect of assassins, she went willingly, even though the last two tutors had died under mysterious circumstances.
But beneath the assassins' caves, Ileni will discover a new place and a new purpose… and a new and dangerous love. She will struggle to keep her lost magic a secret while teaching it to her deadly students, and to find out what happened to the two tutors who preceded her. But what she discovers will change not only her future, but the future of her people, the assassins… and possibly the entire world.
* * *
Why I Read It
: Magic
and
Assassins? Yes please.
Series
: This is the first book in a duology. The sequel,
Death Marked
, releases March 3, 2015.
Writing
: Engaging but distant. The Third Person viewpoint left me feeling a little detached - I would've preferred First Person from Ileni's perspective, so we could really dig into her pain. The two-odd otherwhere scenes we got from the Omniscient perspective seemed unnecessary, in my opinion. However, it worked well enough.
Setting
: A fantasy world. Almost the entire story was spent inside a mountain, so we didn't see all that much of the world. This didn't impair the story in any way though, and in fact added to the simplicity I enjoyed from this book. It's implied that we'll see a lot more of the world in the sequel.
Story
: A simple story about Ileni, a girl who was losing her magic, and how she moved in with a bunch of young male assassins. We followed her as she settled into her new job in the mountain, made acquaintances and enemies, and waited for her magic to die. There was a mystery she poked a bit here and there, but it was a very simple mystery so there wasn't much to poke. And there was an underlying plot, but it was practically nonexistent until the very end and really came out of nowhere (at least for me). All this simplicity may make the story sound a little dull, but it really worked for me - I found it completely engrossing and very entertaining. And the story does have a few scattered bursts of action, with the end quite an explosion of life-altering revelations and decisions. Also, despite the heavier subject matter of loss and death and murder, it was a light read with its restraint and gray-area thinking.
My Only Complaint
: There was one plot thread I thought I caught on to from the beginning, but it was either masterful misdirection or just my own imagination (I suspect the latter) and rather frustrated me when it didn't come to fruition. I was just so sure...
Characters
: Ileni was a girl in mourning. She thought her whole life had been set, but when it all came crashing down around her she accepted her lot and moved on. She could've whined about her situation, tried to fight against it, but she didn't, and I admired her for it. Sorin made an intriguing romantic interest, highly skilled and sure but unbalanced and unsure where his loyalties lay in the face of love. He was one seriously awesome assassin and general character, and I was happy with the direction he took in the end.
Romantic Relationship
: The romance took a bit of a backseat, which I liked. There was attraction, and there were hormones, but while both Ileni and Sorin felt pulled together they also took their convictions and loyalties into consideration when pondering an actual relationship. This unbalanced them both in the face of love, and made for an interesting ending.
Conclusion
: With its magic + assassins equation and simplistic style I really enjoyed this book and look forward to finishing the story with the sequel,
Death Marked
! Recommend for anyone who likes magic, assassins, and/or lighter, uncomplicated fantasies.
Scribble Rating:
3.5 of 5 Scribbles