Today I'm excited to host a guest post by author Courtney Alameda for her 12 Nightmares Before Christmas blog tour! This particular Nightmare has creeped me out since I first laid eyes on it years ago, so it was definitely a perfect fit for me. Before we get started I want to say that
I've already read and loved Courtney's thrilling book, and recommend it not just for horror lovers but anyone who enjoys a
stellar story with great pacing, tense action, and strong characters

(if you
can stomach a bit of squeamish imagery ;).
You can check out my full review
here. Now, on to the Nightmare!
* * *
Hi! I'm Courtney Alameda, author of the soon-to-be published YA horror novel, SHUTTER. I love Christmastime and all things scary, so I wanted to celebrate by sharing some of my favorite Christmas beasties with everyone this year—twelve of them, to be exact! Join me and a few of my blogger friends every day from December 13 – 24, as we feature different holiday nightmares . . . if you dare!
So without further ado . . .
NIGHTMARE TWO:
Elf on a Shelf, or Did We Not Learn Anything from CHILD'S PLAY?
In Christmas 2005, I was working as a manager for Barnes & Noble. Each holiday season, the B&N corporate offices would send us pallets full of books packaged with toys for children. We'd receive so many of these gift boxes, we'd literally build fortresses out of Christmas crap that nobody ever wanted to buy. Hey, we had to do something to bastion ourselves for Black Friday, right?
But in 2005, the smorgasbord of cheap microscope kits and My Little Pony™ coloring sets were joined by this gem:
Customers were skeptical from the outset, and we didn't sell a single Elf that year. Corporate didn't even want the Elves back in their warehouses—we just discounted the little monsters into oblivion. When they didn't sell at 50% off, 75% percent off, or even $1, we booksellers chucked them unceremoniously into the dumpster, dusted our hands off, and figured we'd seen the last of the Elf on the Shelf.
But that freaky little elf came back next year.
No matter how many times we exorcised threw the Elf in the dumpster, he became our recurring Christmas nightmare. And eventually (perhaps in tandem with the rise of mommy blogs and Pinterest), Elf on the Shelf took off. His

creepy

grin and shifty eyes began haunting American households from coast to coast. The gist of the whole operation? Legions of these shelf elves hang out and monitor children's behavior throughout the day. At night, they "fly" back to the North Pole to report their findings back to Satan . . . er, Santa.
You found him hanging out in Christmas trees:
And leaving kids super-fun messages, like:
NSA employee of the year.
Seriously, people, isn't telling your kids about a fat man who sneaks into your house and eats your food traumatizing enough?
* * *
Courtney Alameda's spent her entire career trying to con and cajole people into reading great books. A veteran of the big-box bookstore trenches, Courtney now works as a librarian for the prettiest library you've ever seen, where she spends her time ordering large stacks of YA books, doing readers' advisory, and dressing up as various mythical creatures for a variety of library events.
Courtney has an affinity for brightly colored lipstick, urban exploration, cosplay, video games, and Twitter. If she's listening to music, it's usually Florence + the Machine, Marina and the Diamonds, Rodrigo y Gabriela, or Jason Graves. Her addiction to Dr. Pepper is legendary.
Courtney holds a B.A. in English Literature with an emphasis in Creative Writing from Brigham Young University. She is represented by the amazing and talented John M. Cusick of Greenhouse Literary. A Northern California native, she now resides in Utah with a legion of books and a tiny, five pound cat who possesses a giant personality.
ABOUT THE BOOK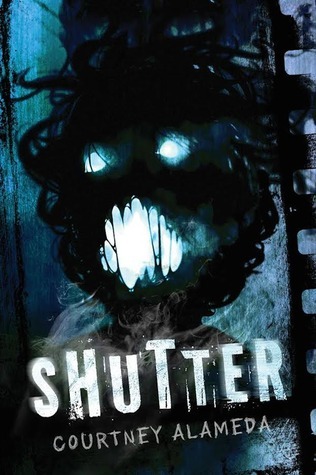 Title: Shutter
Author: Courtney Alameda
Release Date: February 3, 2015
Publisher: Feiwel & Friends
Summary:
Micheline Helsing is a tetrachromat—a girl who sees the auras of the undead in a prismatic spectrum. As one of the last descendants of the Van Helsing lineage, she has trained since childhood to destroy monsters both corporeal and spiritual: the corporeal undead go down by the bullet, the spiritual undead by the lens. With an analog SLR camera as her best weapon, Micheline exorcises ghosts by capturing their spiritual energy on film. She's aided by her crew: Oliver, a techno-whiz and the boy who developed her camera's technology; Jude, who can predict death; and Ryder, the boy Micheline has known and loved forever.
When a routine ghost hunt goes awry, Micheline and the boys are infected with a curse known as a soulchain
.
As the ghostly chains spread through their bodies, Micheline learns that if she doesn't exorcise her entity in seven days or less, she and her friends will die. Now pursued as a renegade agent by her monster-hunting father, Leonard Helsing, she must track and destroy an entity more powerful than anything she's faced before . . . or die trying.
Lock, stock, and lens, she's in for one hell of a week.
Thanks to Skye for hosting this post! Enter the Rafflecopter giveaway below for a pre-ordered copy of SHUTTER, a "Reaper" necklace, and a signed bookplate. Please note that the giveaway is US only, and we promise prizes will NOT be accompanied by the Elf on the Shelf.
Happiest of holidays, everyone!
a Rafflecopter giveaway