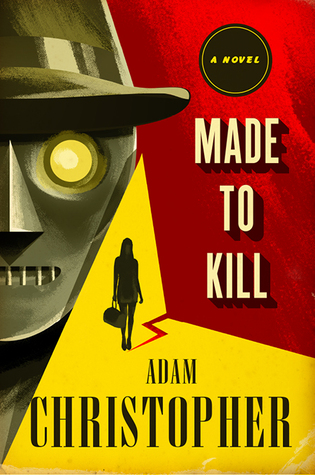 Title
: Made to Kill
Series
: LA Trilogy, Book 1
Author
: Adam Christopher (
site
)
Publisher
: Tor Books
Release Date
: November 3, 2015
Genre
: Adult Historical Contemporary Science Fiction Noir
Told
: First Person (Ray), Past Tense
Content Rating
: Older Teen (some violence and gore, a few words of language)
Format Read
: ARC (publisher)
Find On
:
Goodreads
Purchase On
:
Amazon | B&N | Book Depository
Summary
:
It was just another Tuesday morning when she walked into the office--young, as I suspected they all might be, another dark brunette with some assistance and enough eye black to match up to Cleopatra. And who am I? I'm Ray, the world's last robot, famed and feared in equal measure, which suits me just fine--after all, the last place you'd expect to find Hollywood's best hit man is in the plain light of day.
Raymond Electromatic is good at his job, as good as he ever was at being a true Private Investigator, the lone employee of the Electromatic Detective Agency--except for Ada, office gal and super-computer, the constant voice in Ray's inner ear. Ray might have taken up a new line of work, but money is money, after all, and he was programmed to make a profit. Besides, with his twenty-four-hour memory-tape limits, he sure can keep a secret.
When a familiar-looking woman arrives at the agency wanting to hire Ray to find a missing movie star, he's inclined to tell her to take a hike. But she had the cold hard cash, a demand for total anonymity, and tendency to vanish on her own.
Plunged into a glittering world of fame, fortune, and secrecy, Ray uncovers a sinister plot that goes much deeper than the silver screen--and this robot is at the wrong place, at the wrong time.
Made to Kill
is the thrilling new speculative noir from novelist and comic writer Adam Christopher.
"Part Chandler, part Asimov, and part Philip K. Dick -- a rip-roaring cocktail of smart, sharp, twisty, cyberpulp awesomeness." Adam Sternbergh, Edgar-Nominated author of

Shovel Ready


* * *

Review copy provided by publisher for an honest review. Thank you, Tor!

In a Sentence
: A laid-back noir with an interesting contemporary sci-fi twist and a fun classic PI voice.
I'm usually not one for detective stories (
watching
them, yes -
reading
them, no), but when the publisher sent me this short novel about a robot detective turned hitman I decided to continue my year of reading more outside my comfort zone with this adult noir.
Writing
: Ray's classic hardboiled PI voice was amusing and quirky with his somewhat detached way of describing the things and people around him. Although sometimes he seemed a little too human for a robot, essentially he acted and reacted to the world differently than a human would and it generated some great observations and snark. The description and movement could ramble a bit and the dialogue between Ray and humans was rather stiff and uneven, but for the most part the laid-back style made for a relaxed read.
Story
: Based on the summary, I expected a classic detective-slash-hitman case with Hollywood flair. But although it began classic enough, it eventually took a surprising turn into international intrigue with almost paranormal elements. This turn was a little out there for me, but by the time it hit I was invested enough in Ray's story to suspend disbelief and press on. The climax was reminiscent of old black-and-white mad scientist movies, which made for an exciting albeit over-the-top conclusion, and the end had a feel-good finish that I actually enjoyed more than any other part of the book. As for the details of the case,
I believe

the less you know going in the better the reading experience will be, so if this sounds like a story you might enjoy just pick up a copy and discover the sinister plot for yourself.
Characters
: Ray was an engaging viewpoint character - as a robot he had a detached way of not only viewing the world but moving through it, exhibiting a reckless indifference that allowed him to go where most feared to tread (which kept the story moving) and do what some men might hesitate to do (which kept his secrets safe). His limitations were what really made his character for me, though: his 24-hour memory which was wiped each night, and his ability to be so easily repurposed and reprogrammed by Ada, super-computer extraordinaire. She was the perfect business manager and quite the personality, and together she and Ray made a fun and formidable team to follow.
Conclusion
: If you like classic hardboiled/noir crime stories and enjoy a good contemporary sci-fi twist, then I recommend you give
Made to Kill
a try. This wasn't quite my kind of read so I don't think I'll be continuing the trilogy, but who knows, maybe I'll feel like taking another turn around LA with Ray someday.
Extras
: Tor crafted an impressive website for the series,
theLAtrilogy.com
, packed with interesting and detailed extras such as cast bios, telling advertisements, and a link to the novelette that started it all, "Brisk Money." I definitely recommend giving it a look.
For Fans Of
: Raymond Chandler, classic PI movies