Welcome to The #FridayReads Review, a regular Friday segment where I share what I've been reading the past week, and what I'm planning to read next! Want to join the Friday fun? Post your own #FridayReads Review and leave the link in the Comments below, or just Comment with what you've been reading!
>> CURRENTLY READING <<
Manners & Mutiny by Gail Carriger (PBK)
*melts into a puddle of enjoyment*
>> DNF <<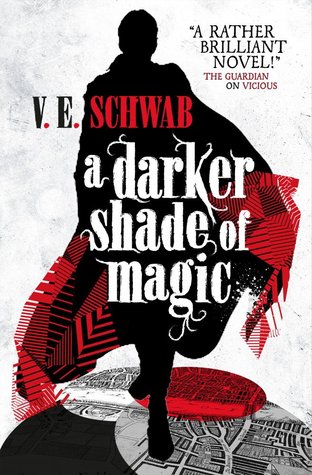 A Darker Shade of Magic by V.E. Schwab (PBK)
DNF at Page 155. With its prominent magic and colorful worlds, this should have been just my kind of read. But while the magic and worlds were intriguing, the characters didn't grab me and when the plot finally appeared it wasn't interesting or really original enough to keep my attention. I'll keep my copy though and try it again in a few years.
>> JUST FINISHED <<
Awkward by Svetlana Chmakova (PBK)
4 Sta
rs. Svetlana is an auto-read for me so when I discovered she'd released this MG I scrambled to get my hands on it! I just love her fun and expressive art and stories, and this was no exception.
>> READING NEXT <<
Soulprint by Megan Miranda (ARC)
I've been feeling like reading a Bloomsbury title (yes, publisher does make a difference, at least to me), so I think I'm going to give this February release a try.
So what are you reading this week?