It is with great pleasure that I present an interview of bestselling author Aprilynne Pike on her upcoming YA Nigh-Fi, GLITTER! If you've been eager to learn more about this gorgeous book, then you have come to the right place - Aprilynne has given me the scoop from how it all began to if we can expect a series, including research subjects, inspirational music, favorite characters and quotes, and her GLITTER Love List! But that's not all: Aprilynne has generously offered an early signed ARC to one lucky reader! Want to read GLITTER before its October release? Then see the giveaway at the end to enter!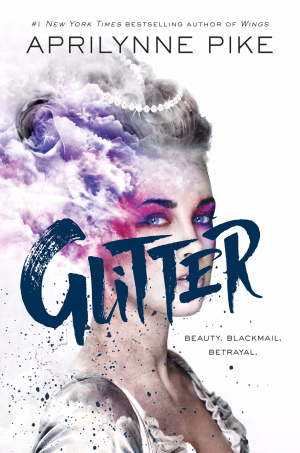 Title: Glitter
Author: Aprilynne Pike
Release Date: October 25, 2016
Publisher: Random House BYR
Summary:
From #1 New York Times bestselling author Aprilynne Pike comes a truly original new novel—Breaking Bad meets Marie Antoinette in a near-future world where the residents of Versailles live like it's the eighteenth century and an almost-queen turns to drug dealing to save her own life.
Outside the palace of Versailles, it's modern day. Inside, the people dress, eat, and act like it's the eighteenth century—with the added bonus of technology to make court life lavish, privileged, and frivolous. The palace has every indulgence, but for one pretty young thing, it's about to become a very beautiful prison.
When Danica witnesses an act of murder by the young king, her mother makes a cruel power play . . . blackmailing the king into making Dani his queen. When she turns eighteen, Dani will marry the most ruthless and dangerous man of the court. She has six months to escape her terrifying destiny. Six months to raise enough money to disappear into the real world beyond the palace gates.
Her ticket out? Glitter. A drug so powerful that a tiny pinch mixed into a pot of rouge or lip gloss can make the wearer hopelessly addicted. Addicted to a drug Dani can sell for more money than she ever dreamed.
But in Versailles, secrets are impossible to keep. And the most dangerous secret—falling for a drug dealer outside the palace walls—is one risk she has to take.
THE INTERVIEW
1. GLITTER in one sentence:
Danica Grayson tries to escape a world of blackmail, court intrigue, fancy dresses, and cutting-edge technology by selling a new designer drug.
(For a more detailed explanation, see Aprilynne's "About Glitter" post here!)
2. What inspired GLITTER?
Ha! This is hilarious (to me) actually! I was a huge fan of Breaking Bad, and though the series finale was amazing, I found the first half of Season 5 to be … lackluster. And, as we egotistic writers do, I kept thinking, I could do better. Then I thought, but what I really want to do is write girls in pretty dresses. And that's how it all started.
3. What were some of the subjects you researched for GLITTER?
I did SO much research into the time when the three King Louis lived in the Palace of Versailles. Truly it's glittering heyday. Lots of research into Marie Antoinette, arguably France's most famous queen ever, and watched a lot of documentaries. I also spent a lot of time on the Palace of Versailles' website because the Palace is almost like a character itself and I wanted to feel like I'd been there. (I haven't, actually.)
4. Was there any particular music that inspired you while writing GLITTER?
I have no idea why the song Boston by Augustana resonated so deeply while I was writing Glitter, but it did. More understandably, I discovered the song Le Tempdes Cathédrales from the musical Notre Dame de Paris while writing Glitter (though it must be sung by Bruno Pelletier, and it must be sung in French) and have listened to it over and over hundreds of times.
5. Who was your favorite character to write & why? Who was your least favorite to write & why?
Oh, the King. The King is unabashedly a ruthless, awful, selfish person and not only does he know it, it makes him a very good CEO. I enjoy seeing just how bad I can make him, while still making him the hero of his own journey. That being said, in the sequel, as I continue to take Danica down her own path, Danica is getting to be just as much fun to write as the King … though I probably shouldn't say much about why. :)
My least favorite character to write is Danica's mother who is an equally awful person, but making her act selfishly in a way that she is quite aware is going to make her child suffer is difficult to write as a mother. It's a line I would never cross and writing a truly awful mother has been stretching for me as an author. But it's not fun.
6. What's your favorite line/passage in GLITTER?
Oh dear. It's the last couple lines of the book. I truly can't say anything beyond that. However, my second fave is about a character I adore, named Lord Aaron:
"Some knights appear on white steeds; mine rides bejeweled heels with satin laces."
7. Aprilynne Pike's GLITTER Love List
Danica's hair! It's long and thick and can make a pompadour all by itself.

Pretty. Dresses. That is all. :)

Writing a selfish and rather reckless anti-heroine.

Men in heels.

Fancy food.

A hero who is in no position to save anything, much less the day.

My setting. Not just the Palace of Versailles, but Paris.

Danica's corset.

M.A.R.I.E.'s acronym (the Mainframe for Autonomous Robotic Intelligence Enhancement).

All of the little things that don't seem so important in this book, that are crucial in the next one.
8. If possible, would you live in your future Palace of Versailles Pocket Kingdom? Why or why not?
Oh man, I would be sorely tempted to say yes! All the glitz and glamour of the days of the Sun King, but with all of the modern comforts they didn't have access to four hundred years ago. If only the government weren't so very corrupt …
9. Is GLITTER a standalone or a series?
Glitter is going to be two books and I am editing the sequel as we speak! It's slated to come out one year after Glitter.
10. Anything else you'd like to say about GLITTER?
As fun as it's been to write an anti-heroine, it's nerve-wracking too. Male characters get away with so much more than female characters without losing the sympathy of the reader. So I am hoping that readers will enjoy reading about a girl who does some really bad things as much as I enjoyed writing her doing them! Main character she is … Good girl she is not.
And that's it! Thank you so much to Aprilynne for the interview.
❤❤
If you want even more info on this amazing book, check out the Happy Ever After interview Aprilynne did back in March for the cover reveal here, and be on the lookout for the GLITTER Blog Tour this October from Rockstar Book Tours!
THE AUTHOR