Today I spotlight two long-awaited sequels! The first is
Imprudence
, the second book in The Custard Protocol series by favorite author Gail Carriger! The second is
The Shattered Lens
, the fourth book in the Alcatraz series by Brandon Sanderson! Both are amazing series I highly recommend, so if you haven't checked them out yet do so below!
Series: The Custard Protocol #2
Author: Gail Carriger
Publisher: Orbit Books
Release Date: 7/19/16
London is in chaos.
Rue and the crew of The Spotted Custard returned from India with revelations that shook the foundations of the scientific community. There is mass political upheaval, the vampires are tetchy, and something is seriously wrong with the local werewolf pack. To top it all off, Rue's best friend Primrose keeps getting engaged to the most inappropriate military types.
Rue has got personal problems as well. Her vampire father is angry, her werewolf father is crazy, and her obstreperous mother is both. Worst of all, Rue's beginning to suspect what they all really are… is frightened.
When the Custard is ordered to Egypt, transporting some highly unusual passengers, Rue's problems go from personal to impossible. Can she get Percy to stop sulking? Will she find the true cause of Primrose's lovesickness? And what is Quesnel hiding in the boiler room?
Add to Goodreads
PURCHASE:
Amazon
|
B&N
|
Indiebound
|
Book Depository
Check out the first book!
--------------------------------------------------------------------------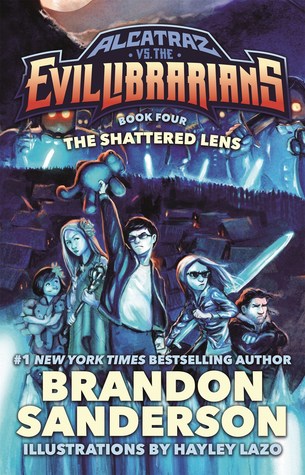 Title:
The Shattered Lens
Series: Alcatraz #4
Author: Brandon Sanderson
Publisher: Starscape (Tor)
Release Date: 7/19/16

The Shattered Lens
is the fourth action-packed fantasy adventure in the Alcatraz vs. the Evil Librarians series for young readers by the #1
New York Times
bestselling author Brandon Sanderson. These fast-paced and funny novels are now available in deluxe hardcover editions illustrated by Hayley Lazo.
Alcatraz Smedry is up against a whole army of Evil Librarians with only his friend Bastille, a few pairs of glasses, and an unlimited supply of exploding teddy bears to help him. This time, even Alcatraz's extraordinary talent for breaking things may not be enough to defeat the army of Evil Librarians and their giant librarian robots.
"An excellent choice to read aloud to the whole family. It's funny, exciting, and briskly paced." —Nancy Pearl on
NPR'S Morning Edition
Add to Goodreads
PURCHASE:
Amazon
|
B&N
|
Indiebound
|
Book Depository
Check out the first three books in the series!
Book 1: Alcatraz vs. the Evil Librarians
Book 2: The Scrivener's Bones