Welcome to the fourth and final review in the
PRUDENCE READ-ALONG
, hosted here on Skye's Scribblings and the
Goodreads Gail Carriger Fan Group
! (For information on the Read-Along, see the Introduction post
here
.) Below are my brief thoughts on this week's final chapters, as well as the final Q&A with the author, and don't forget to enter the giveaways at the end for the chance to win great prizes!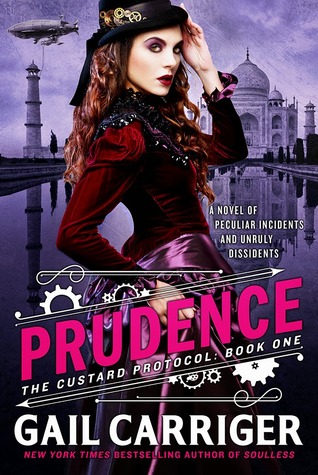 Release Date: March 17, 2015
Publisher: Orbit
Summary:
When Prudence Alessandra Maccon Akeldama (Rue to her friends) is given an unexpected dirigible, she does what any sensible female would under similar circumstances - names it the Spotted Custard and floats to India in pursuit of the perfect cup of tea. But India has more than just tea on offer. Rue stumbles upon a plot involving local dissidents, a kidnapped brigadier's wife, and some awfully familiar Scottish werewolves. Faced with a dire crisis and an embarrassing lack of bloomers, what else is a young lady of good breeding to do but turn metanatural and find out everyone's secrets, even thousand-year-old fuzzy ones?
This week we read the final Chapters 13-16.
After some fuzzy mischief, Rue reaches her destination only to get bogged down in misunderstandings and politics before all the wrong parties appear and cause unnecessary chaos. Fighting ensues, but after showing quite a lot of skin and absconding with important factors, Rue is able to issue some floating diplomacy and broker tentative negotiations. In the end Rue makes several possible new allies, a few potential enemies, and gains a mysterious new crew member.
Plot & Politics: While all the miscommunication caused the climax to be a bit drawn out and clumsy, I enjoyed the playful nature of the characters in the face of violent skirmishes and serious political snafus. Although I felt the whole political matter was handled rather haphazardly, it created an unpredictability that really fit Rue and the tone of the book, and as one not for politics (at all) I found them not only easy to follow but rather entertaining.

Characters & Final Thoughts: Thinking back, Rue wasn't a favorite character my first read, and like many of you have commented over the read-along it was the secondary characters that really engaged me. But this second read allowed me to study the nuances of Rue's personality more closely, and although the crew are still what really make this book for me, Rue grew on me significantly and I'm excited to continue her adventures in Imprudence!
Character: Tasherit. Her feline ways compel such interesting reactions from others, and I look forward to hopefully discovering more about her and her mysterious past in future stories!
Scene: The final tea. As it was for the characters I enjoyed the relaxing release after all the action and politics.
Quote:
"Oh, hello, Percy? How are you? Still revolting? Good. Anyway, where was I?"


--Prim
So what were your thoughts on final chapters? Join the discussion on the Gail Carriger Fan Group HERE or Comment below!
Q.
What are four things we can look forward to in Imprudence?
A.
Well there's a major reveal about one well-loved character's past, totally unexpected dark family secrets, seriously unsettling power transitions, and some shocking lessons concerning the French language.

Author Links:
In honor of the Read-Along, Ms Gail has generously donated
two signed Prudence ARCs
!! As these would be a special addition to any Carriger fan collection, this giveaway will be open to
Gail Carriger Fan Group Members
only
. (US addresses only though, apologies International fans!) Want an ARC for your collection? Just be or become a
Fan Group member
and join the read-along discussion!
And don't forget I'm also holding a giveaway here on Skye's Scribblings for a Carriger button set procured from
Gail Carriger's Zazzle merchandise account
, and a hardcover of Book 2,
Imprudence
! To enter, spread the word about the read-along and join the discussion either below or on the Gail Carriger Fan Group!
(Important Giveaways Note: If you post your discussion comments on the Goodreads Fan Group, your single post link can be entered into both giveaway forms - you don't have to post at both locations, or do more than one post. Unless you want to, of course! ;)