Welcome to the third review in the
PRUDENCE READ-ALONG
, hosted here on Skye's Scribblings and the
Goodreads Gail Carriger Fan Group
! (For information on the Read-Along, see the Introduction post
here
.) Below are my brief thoughts on this week's chapters, as well as another Q&A with the author, and don't forget to enter the giveaways at the end for the chance to win great prizes!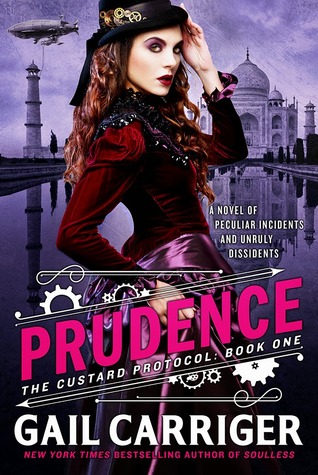 Release Date: March 17, 2015
Publisher: Orbit
Summary:
When Prudence Alessandra Maccon Akeldama (Rue to her friends) is given an unexpected dirigible, she does what any sensible female would under similar circumstances - names it the Spotted Custard and floats to India in pursuit of the perfect cup of tea. But India has more than just tea on offer. Rue stumbles upon a plot involving local dissidents, a kidnapped brigadier's wife, and some awfully familiar Scottish werewolves. Faced with a dire crisis and an embarrassing lack of bloomers, what else is a young lady of good breeding to do but turn metanatural and find out everyone's secrets, even thousand-year-old fuzzy ones?
This week we read Chapters 9-12.
After conversing with a rather unpleasant vampire and receiving a change of mission (followed by an intriguing lesson in romantic encounters), a mysterious new acquaintance takes Rue and company on a tour of the city where she reveals there is more to Rue's mission than just tea before being whisked away by persons unknown. To garner a deeper understanding about what might be going on, Rue visits another acquaintance to investigate and discovers the supernatural set may be wider than previously realized. Borrowing a new form, she goes in search of the expansion and, although things don't go quite as planned, after an unexpected stop and a lot of exertion she makes a topping supernatural discovery - although at a rather unfortunate time.
Plot: Goodness a lot happens in these chapters! Discoveries and revelations abound concerning all things supernatural, romantic, fashion, and tea. I was happy Rue finally got serious about what's going on and began actively ferreting out answers - she may have stumbled upon some things a little too easily, but the rapid progression of plot was a welcome change from last week's inhibitions.

Cover: I love it when the cover outfit is in the story! Although what a scandalous outfit to choose. ;) (Page 226 for those who didn't recognize it.)
Category: Although this series is technically categorized under "Adult," given Rue's age, off-to-see-the-world attitude, and sexual explorations, I feel this has all the hallmarks of a New Adult book. Thoughts?
Character: Miss Sekhmet. Not only is she a member of my favorite species, but I love what she does to Prim.
Scene: Rue and Quesnel's escape. All that excitement, dashing about, various states of undress, and a peppery Spoo.
Quotes:
"Regardless, darling," said Prim to Rue, "you are clearly most unwelcome."
"Evidently. Shall we stay a while?"
"How did we go from tea to death so quickly?" wondered Quesnel.


"Sometimes," said Prim darkly, "there is a very fine line between the two."
So what were your thoughts on Chapters 9-12? Join the discussion on the Gail Carriger Fan Group HERE or Comment below!
NEXT (7/3 - 7/9) WE FINISH WITH:
CHAPTERS 13-16
Q.
Rue visits some exotic places in Prudence! Are there any interesting research tidbits you learned
that didn't make it into the book?
A.
A lot of my research into Indian mythology didn't make it in. And some stuff on the origins of various colonial influenced dishes. Like Vindaloo. Vindaloo is fascinating.

Author Links:
In honor of the Read-Along, Ms Gail has generously donated
two signed Prudence ARCs
!! As these would be a special addition to any Carriger fan collection, this giveaway will be open to
Gail Carriger Fan Group Members
only
. (US addresses only though, apologies International fans!) Want an ARC for your collection? Just be or become a
Fan Group member
and join the read-along discussion!
And don't forget I'm also holding a giveaway here on Skye's Scribblings for a Carriger button set procured from
Gail Carriger's Zazzle merchandise account
, and a hardcover of Book 2,
Imprudence
! To enter, spread the word about the read-along and join the discussion either below or on the Gail Carriger Fan Group!
(Important Giveaways Note: If you post your discussion comments on the Goodreads Fan Group, your single post link can be entered into both giveaway forms - you don't have to post at both locations, or do more than one post. Unless you want to, of course! ;)